The latest vintages of Chardonnay and Cabernet Sauvignon from Jordan Winery.
Spring is the season for new beginnings, including the latest vintages of Jordan Russian River Valley Chardonnay and Jordan Alexander Valley Cabernet Sauvignon. Released mid-April, these three wines are ready to be enjoyed at your table.
Be sure to share your experiences with us on Facebook, Instagram and Twitter using the hashtag #myjordantable for a chance to be featured on our social pages.
A rare expression of California Chardonnay that excites the senses. Bright and delicious.
TASTING NOTES: A vintage defined by its crispness, vibrancy and freshness. Pretty aromas of honeysuckle, lemon blossom and Fuji apple spring from the glass. The palate boasts bright, lively layers of lemony citrus with just a hint of oak and creaminess from careful barrel aging and bâtonnage. Flavors of kumquat, lemon and Fuji apple linger in the juicy, mouthwatering finish. Enjoy now or cellar through 2025.
VINTAGE NOTES: After years of very warm weather in winter, 2018 remained rainy and cool into early spring, allowing bud break to begin at a more typical time in mid-March. Bloom occurred under normal conditions, allowing an average-sized crop of grape clusters to form. Heat spikes in June and July, followed by record temperatures over Labor Day weekend, had no negative impact on the large clusters, which surprised us with their record weights and vibrant aromas and flavors.
The Making of 2018 Jordan Chardonnay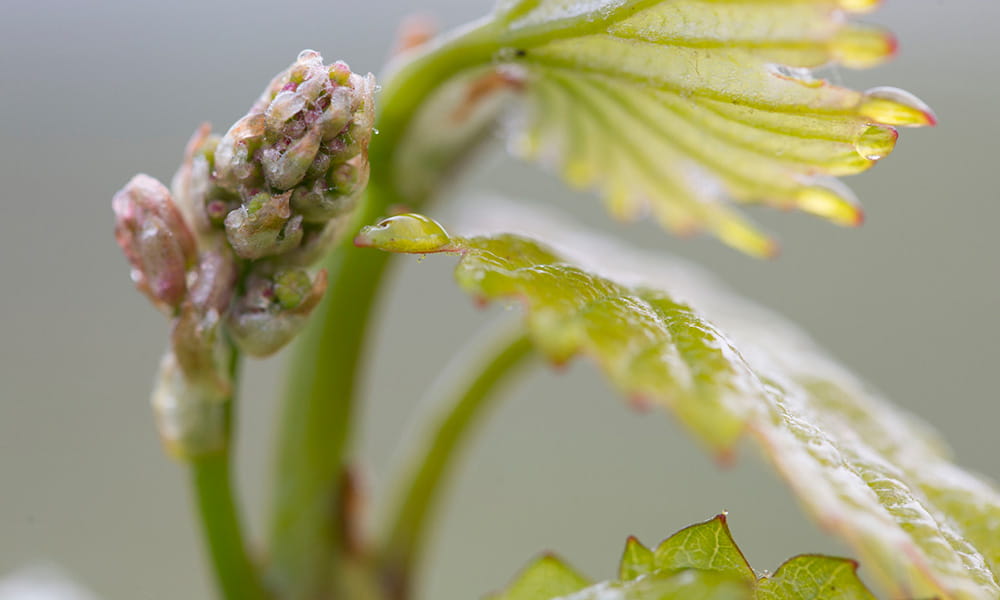 Timing for the entire growing season was three to four weeks later than in recent years and reminded us of classic vintages from the 1990s, when winter temperatures remained cool and brought just enough rainfall.
Bud break occurred at a more typical time in late March, and very little rain or wind during the May flowering period resulted in a generous but not excessive cluster count.
When fruit set occurred in June, the crop size looked average, but as summer progressed, the clusters filled out beautifully, with much heavier clusters than usual.
With no threat of rain in the forecast in early or mid-September, we had the luxury of letting the grapes reach full maturity, concentrating their varietal aromas, mid-palate character and depth of fruit.
All Chardonnay grapes were hand-picked in the coldest hours of the night to retain their natural acidity and pure fruit flavors.
The wine was fermented and aged in a combination of stainless steel tanks and new French oak barrels.
Sur-lie aging and bâtonnage were limited to five weeks to add creaminess to the mid-palate, all while still preserving the fresh fruit so classic of Russian River Valley Chardonnay.
Jordan sources only the top 0.3% quality wine corks from Portugal, the world's leading producer of wine corks. The winery and its supplier hand-sort and select only the best 20% of quality corks from the original sample, declassifying those corks that may have imperfections.
A state-of-the-art bottling line ensures that each bottle of Jordan Chardonnay will be full of life with bright, primary fruit character in its youth and will age gracefully.
Previous
Next
The 40th Anniversary of our first vintage of Cabernet Sauvignon.
TASTING NOTES: Aromas of black cherries wrapped in a spice box of nutmeg, clove and allspice jump from the glass. The palate is filled with flavors of black currants and plum that lead seamlessly to silky tannins. Blackberry and Mission fig notes linger on the finish. The combination of elegance and intensity make it a fitting vintage to celebrate 40 years of Jordan Cabernet Sauvignon. Enjoy now after decanting for 30 minutes or cellar through 2035.
VINTAGE NOTES: A phenomenal year that took us by surprise. After ample rainfall of 32 inches in winter, bud break and fruit set enjoyed normal, mild weather. Late May brought two heat spikes during flowering, which rewarded winemakers with small berries and rich tannins. Moderate summer conditions only intensified the gorgeous, concentrated flavors.
The Making of 2016 Jordan Cabernet
After weeks of intermittent rain storms in December and January, a record heat wave hit in mid-February, which triggered yet another early bud break.
Flowering began in early May, which is typical timing, and despite some rainy days and a little wind, the flowers pollinated successfully in our earlier ripening vineyards.
A curve ball came our way from mid-May through Memorial Day weekend, in the form of a few rain showers punctuated by two heat spikes. This disrupted the bloom of some later-ripening vineyards, which reduced the quantity—but not the quality—of
the grape clusters.
Cool temperatures and misty fog lingered well into late morning most days throughout August. There was just enough sunshine, but without intense heat, which allowed the grapes to ripen slowly, developing complex flavors.
Harvest for Jordan's Alexander Valley Cabernet Sauvignon began on September 8 and concluded on October 7—the eve of our official 40th anniversary.
This was an average-sized crop, but with flavor and complexity on par with the exceptional 2012 vintage. Right off the vine, the fruit aromas were bright, beautiful and rich, and the grapes showed great intensity of fruit flavors.
Malolactic fermentation occurred in our upright oak tanks before a barrel blend was created and transferred to small oak barrels.
The 2016 Jordan Cabernet Sauvignon was aged for 13 months in 100% French oak barrels. Nearly 50% of those barrels were new French oak.
Jordan sources only the top 0.3% quality wine corks from Portugal, the world's leading producer of wine corks made from cork tree bark. A single Jordan wine cork costs an average of $1.10—three times the industry average of about 35 cents.
A state-of-the-art bottling line ensures that each bottle of Jordan Cabernet Sauvignon will fully express its dark fruit flavors and aromas in its youth, and will age gracefully in bottle, developing more complexity over the decades.
Previous
Next
2014 Cabernet Sauvignon 1.5L
The third in a string of exceptional vintages that lends itself to the long, graceful aging that only a large-format bottle can provide.
TASTING NOTES: Its perfume of blackberries and black cherries mingles with a backdrop of subtle oak notes. The palate has a velvety richness that coats the mouth in concentrated flavors of blackberries and cassis, laced with fine tannins. Enticing flavors of chocolate, violets and dark fruits linger in the long finish. Enjoy now or cellar through 2047.
VINTAGE NOTES: In what seems to have become a trend in the past few years, 2014 was defined by an early growing season. After a moderate winter, the buds burst early and grew rapidly. Relatively warm, dry days prevailed in spring, allowing the vineyards to bloom perfectly and set a balanced crop. Dry weather with few heat spikes helped the grapes to develop intense, dark fruit aromas and flavors.
The Making of 2014 Jordan Cabernet Magnum
The final in a string of drought vintages, 2014 enjoyed dry, moderate weather throughout winter with superbly timed rainfall right before the early bud break in March.
Spring conditions remained warm and dry, allowing the grapevines to bloom evenly.
Extremely dry weather continued in July and August with only a few heat spikes, allowing the crop to ripen uniformly.
Two weeks of foggy weather at the end of August slowed down the very early progression of the vintage, before a heat wave over Labor Day weekend kicked harvest into high gear.
Merlot grapes were the first to be picked on September 2, 2014—about 7-10 days earlier than 2013, which was one week early. Gondolas of Merlot and Cabernet Sauvignon grapes continued to arrive at the crush pad before the first Russian River Valley Chardonnay night harvest.
The mid-September rain shower was a blessing in disguise, which slowed down
the picking schedule for thick-skinned Cabernet Sauvignon, allowing the cellar team to finish primary fermentations and make room for the next wave of grapes.
The wine was aged in a combination of new and used French and American oak barrels for one year with French oak comprising 45% of the new oak.
Using a two-part quality assurance procedure, the winemaking team manually tested and analyzed laboratory samples of wine corks before bottling to ensure one of the lowest probabilities of cork taint in the California wine industry.
The 2014 Jordan Cabernet Sauvignon magnums were filled in 2016 using the latest bottling technology and aged for four years, allowing the wine to gain remarkable depth and complexity of aromas and flavors before release.
Previous
Next