The latest vintages of Chardonnay and Cabernet Sauvignon from Jordan Winery.
Spring is the season for new beginnings, including the latest vintages of Jordan Russian River Valley Chardonnay and Jordan Alexander Valley Cabernet Sauvignon. Released May 1, these three wines are ready to be enjoyed at your table.
Be sure to share your experiences with us on Facebook, Instagram and Twitter using the hashtag #myjordantable for a chance to be featured on our social pages.
A rare expression of California Chardonnay that excites the senses. Bright and delicious.
TASTING NOTES: Inviting aromas of honeysuckle and lemon peel lead to bright flavors of stone fruits and citrus. The palate is elegant yet succulent, with layers of oak-laced lemon, pears, quince and white peach—all supported by uplifting acidity. Its crisp, citrusy finish lingers on the palate, enticing you to take another sip.
VINTAGE NOTES: Days remained rainy and cool from late winter into early spring, allowing bud break to occur at a more typical time in mid-March. Bloom occurred under normal conditions, allowing an average-sized crop of grape clusters to form. Three heat spikes hit in June and July, followed by record temperatures over Labor Day weekend. Sugar levels dropped back to normal, allowing harvest to continue with smaller clusters that showed bright aromas and crisp flavors.
The Making of 2017 Jordan Chardonnay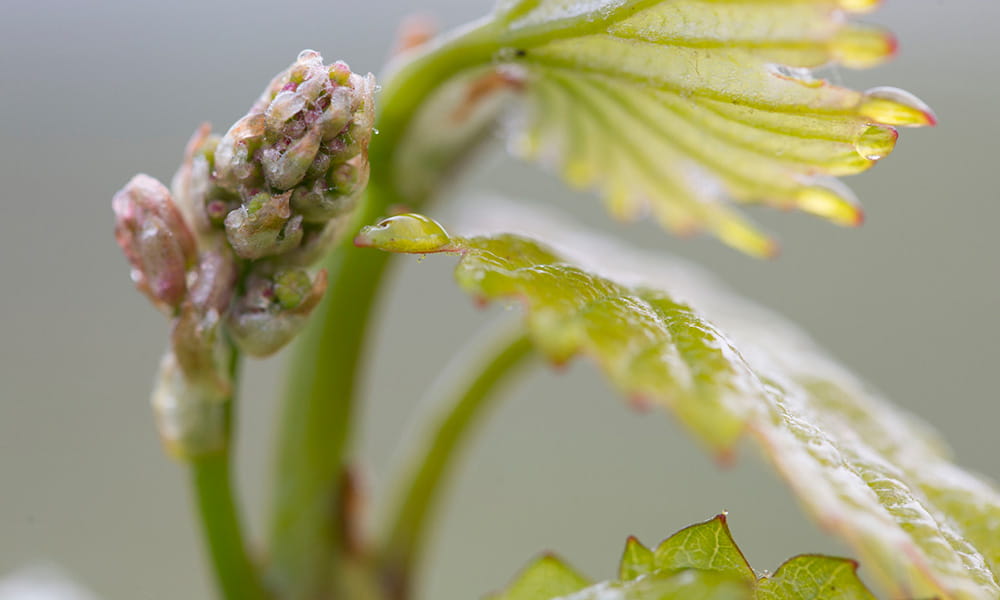 Days remained cool to cold from late winter into early spring, which prevented an early bud break and allowed the vines to continue their slumber until mid-March.
Cool temperatures stretched into April, but by mid-May the sun shone on the vines and flowering began about three weeks later than the last few vintages.
Leafing to open up the grapevine canopy and provide filtered light to the clusters, which typically happens in June, had to be delayed.
Over Labor Day weekend, just after harvest began, another heat wave hit and temperatures reached well into the triple digits—a dramatic finish to a season that kept us on our toes all year.
All Chardonnay grapes were hand-picked in the coldest hours of the night to retain their natural acidity and pure fruit flavors.
The wine was fermented and aged in a combination of stainless steel tanks and new French oak barrels.
Sur-lie aging and bâtonnage were limited to five weeks to add creaminess to the mid-palate, all while still preserving the fresh fruit so classic of Russian River Valley Chardonnay.
Jordan sources only the top 0.3% quality wine corks from Portugal, the world's leading producer of wine corks. The winery and its supplier hand-sort and select only the best 20% of quality corks from the original sample, declassifying those corks that may have imperfections.
A state-of-the-art bottling line ensures that each bottle of Jordan Chardonnay will be full of life with bright, primary fruit character in its youth and will age gracefully.
Previous
Next
First Tastes of 2017 Jordan Chardonnay
The first classic Cabernet Sauvignon in our history aged entirely in French oak barrels.
TASTING NOTES: Pure elegance in a glass. Aromas of black cherries, pomegranate, dried cranberries and a hint of graphite channel classic Bordeaux. Its lovely, silky texture coats the palate with layers of black cherries and a touch of cedar from French oak's fine tannins. From beginning to end, the balance carries all the way through.
VINTAGE NOTES: The last grapes were crushed on September 28, making our 40th vintage one of the earliest-finishing harvests in Jordan's history. Bud break was early with dry spring days followed by unusually cool weather in May. Dry weather continued with a few heat spikes in September. Despite the lower yields, this wine is rich with a concentration of tannin provided by this vintage's uniquely small berries.
The Making of 2015 Jordan Cabernet
Mild spring weather resulted in an early bud break, with grapevines emerging from dormancy three weeks ahead of a typical growing season.
Temperatures remained warm, and the vines began to bloom in late April.
Cool weather led to uneven flowering and fruit set in some vineyards, causing a smaller yield in 2015.
Warm temperatures eventually returned and remained throughout the summer, helping the vines ripen their reduced crop
Due to a September heat spike that increased sugar levels in the fruit, harvest began early and ran at an accelerated pace.
Harvest kicked off on September 3 and the last grapes made their way into the fermentation room on September 28. This made the 40th vintage at Jordan one of the earliest-finishing harvests in the winery's history.
Malolactic fermentation occurred in our upright oak tanks before a barrel blend was created and transferred to small oak barrels.
The 2015 Jordan Cabernet Sauvignon was aged for 13 months in 100% French oak barrels—the highest percentage in Jordan Winery history. Nearly 50% of those barrels were new French oak.
Jordan sources only the top 0.3% quality wine corks from Portugal, the world's leading producer of wine corks made from cork tree bark. A single Jordan wine cork costs an average of $1.10—three times the industry average of about 35 cents.
A state-of-the-art bottling line ensures that each bottle of Jordan Cabernet Sauvignon will fully express its dark fruit flavors and aromas in its youth, and will age gracefully in bottle, developing more complexity over the decades.
Previous
Next
First Tastes of 2015 Jordan Cabernet
2013 Cabernet Sauvignon 1.5L
A special vintage that lends itself to the long, graceful aging that only a large-format bottle can provide.
TASTING NOTES: Concentrated dark fruit aromas of black currants, black cherries and blackberries. The rich and seductive palate showcases layers of fine tannins, blackberries and cassis that have found seamless balance after additional bottle aging. Its masculine structure is harnessed by a long, graceful finish, laced in black cherries and French oak notes.
VINTAGE NOTES: Though it began as one of the warmest, driest and earliest growing seasons, 2013 had moderate weather throughout summer, allowing the grapes to develop intense flavors with lots of structure. This vintage exemplifies our move to a higher percentage of French oak to complement the natural grape tannin found in the collection of grower vineyards that have been the soul of Jordan Cabernet Sauvignon since 2006.
The Making of 2013 Jordan Cabernet Magnum
What began as one of the warmest, driest and earliest growing seasons on record, 2013 enjoyed sunny days and temperatures in the '60s and '70s from February into March, causing an early bud break.
Luckily, the frost scares of spring never materialized. Mercury levels soon shot into the '90s, and flowering also commenced in early May, three weeks ahead of schedule
Temperatures suddenly decreased to a more moderate level in August with impeccable timing, allowing the grapes to develop very intense, concentrated flavors with lots of structure and natural acidity.
The long hours that Ranch Manager Brent Young and our family growers invested in preserving the perfect fruit set paid off in uniformity during veraison of the clusters in July and early August.
Harvest began a week earlier than in 2012, and the quality of the fruit was spectacular— we never imagined that 2013 could rival 2012.
Similar to 2012, declassifying lots of inferior quality was a non-issue; the freshly pressed juice was brooding with dark fruits, fine tannin and good acidity—every tank made the final cut.
The wine was aged in a combination of new and used French and American oak barrels for one year with French oak comprising 43% of the new oak.
Using a two-part quality assurance procedure, the winemaking team manually tested and analyzed laboratory samples of wine corks before bottling to ensure one of the lowest probabilities of cork taint in the California wine industry.
The 2013 Jordan Cabernet Sauvignon magnums were filled in 2015 using the latest bottling technology and aged for four years, allowing the wine to gain remarkable depth and complexity of aromas and flavors before release.
Previous
Next
First Tastes of 2013 Jordan Cabernet Magnum