Corporate Gifts & Services
Learn about Jordan Winery's corporate gifts and services, featuring wine gift boxes and specialty olive oil for clients or employee appreciation.
DEDICATED CONCIERGE
Our Guest Services management team personally oversees corporate orders, helping to alleviate the stress of coordinating corporate gift orders and ensuring your gifts arrive on time, beautifully presented.
SHIPPING TO MULTIPLE ADDRESSES
We specialize in corporate gifts and multiple-package orders. Our staff is happy to help make your gift giving needs stress-free. Please contact us at orders@jordanwinery.com or 707.431.5250. For ease in placing multiple-package orders, a .csv file can be provided.

Please note that 10 or more orders require three additional business days to process.
Corporate and other large gift orders enjoy different shipping benefits, based on quantity.
Order 12+ gift boxes or wood box gift sets and receive 30% off shipping.
Spend $2,000 or more on any combination of products and receive 50% off shipping.
Shipping benefits are valid through December 18, 2018. Please inquire with our dedicated concierge regarding shipping options past this date.
For arrival by Thanksgiving, order by November 15.
For arrival by Christmas and New Year's Eve, order by December 17.
Jordan Winery is closed for the holidays December 19-January 1.
A personalized Jordan gift card may be included at no additional cost. From custom-etched wine bottles to laser-etched wooden wine boxes, Jordan can also personalize your wine gifts for clients and loved ones alike.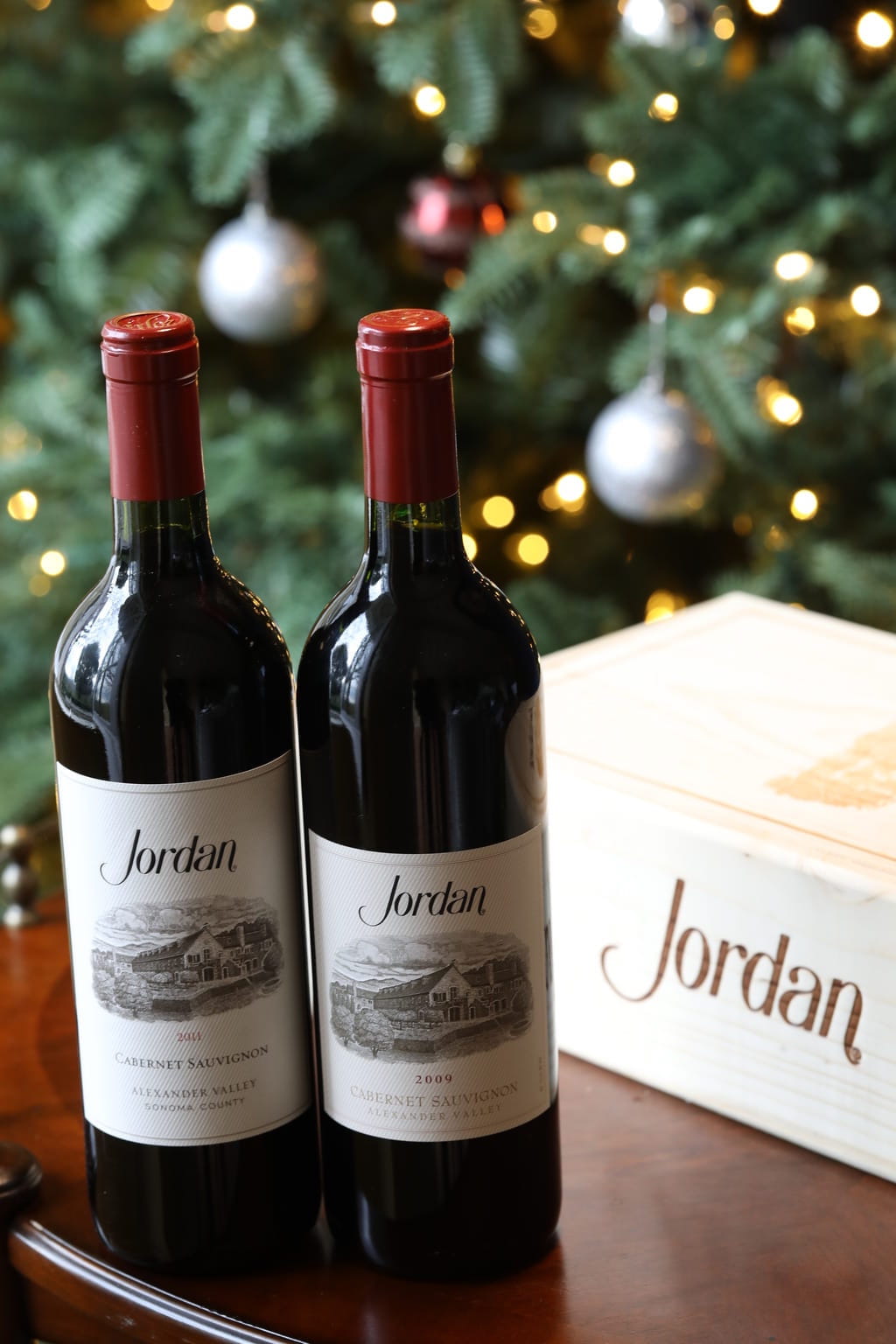 "It's often difficult to find a gift that appeals to many, especially when your clientele is high-net worth individuals with a taste of private aviation. With Jordan Winery, we were able to find not only a well sought-out present, but also an excellent customer service support on our order."
David R
Houston, TX
"In life there are tons of ways to make folks smile, but few that make them truly remember the experience. For years, I have sent Jordan wines to family, friends, colleagues and customers, especially during the holidays. The only thing more satisfying than the warm thanks I have received for the gifts is to hear how much they have enjoyed the spectacular wines and accessories. Thank you Jordan for providing such remarkable products and great customer service!"
Bernie L.
North Chatham, MA
"Our clients look forward to receiving their wooden box wine gifts each year. The ability to save recipient's address within our profile makes the ordering process quick and seamless for repeat ordering."
Gary J.
Plymouth, MA
"We love using the Jordan website for gifts and recognition, especially at the holidays. We use the site for employee recognition and gifts for friends and family. The great thing is the variety of opportunities from significant bottles of cabernet to unique gifts like olive oil and serving ware; there's really something for everyone. The website is great, the process is easy and the follow up is comprehensive, not to mention all those rewards points!"
Phil & Marcia H.
Scottsdale, AZ